Steam Sucks - Bad software - STEAMing Pile of shit! - Counterstrike, Modern Warfare, Team Fortress 2, etc
March 2008


Steam? What is it?
Steam is a so-called 'platform' for subscribing to computer games. Why is it called a subscription service? The answer is that you pay a once-off fee to steam/valve to maintain the game. If you have no internet connection, then you won't be able to connect to steam's auentication servers which means bad luck to you.

In its first incarnation, it made for one of the most horrid gaming experiences. Countless crashes, connection and 'authentication/ticket' issues, forced updates, etc all made it unusable at one stage or another.

So if it's so bug-ridden and breaks all convention, why do so many people use it? Because of Valve's iron-fisted monopoly! It's like how everybody hates Microsoft, but they still use it. At least with operating systems you have another choice such as Linux. But with steam platform games, such as Counterstrike, you have no choice but to steam it up!
The problems with Valve's silly application, SteamingPileOfShit
Breaks all UI conventions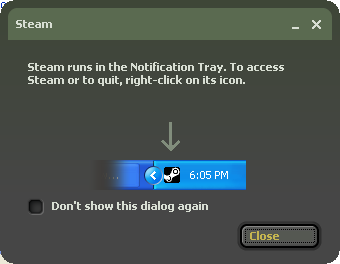 Not everyone has the default blue Windows XP luna theme! If people are successfully filing complaints about the unusability of websites, then why is steam allowed to get away with non-standard UI controls? Some of their dialogue boxes are not even keyboard accessible.

Yes, we all know that this is a game, and games are allowed to employ custom UIs, right? Wrong! Steam, for the most part, is usually running in the background (when you're not playing any game). Thus it is a 'Windows' application. As such, it should follow the proper UI conventions. Why re-invent the UI by making it use non-standard colors, or make pushbuttons look different to the standard ones used by 99.9% of all other windows applications?

Why do the windows now fade in and out?!?! When I want to close a window, I want it to dissapear immediately, like other normal windows. Don't want any of this bullshit fadeout crap.
Forced updates


Updates are forced onto you, no matter what!
I wanna play now! Not update the silly thing!
You are at the mercy of valve's developers. All updates are forced onto you. There is no escaping this.

At least with MS windows, the most widely used software, allows you to update it when you please. Windows is used for all purposes - even mission critical business applications. And you can choose not to update windows at all if you so wish. In fact I have rarely ever updated windows, and yet, the software remains fairly stable (quite remarkably).

But take steam on the other hand. Every now and then it will complain about needing to update. It won't even let you play any of your subscribed games untill you let it do its updates. This draconian approach is all but grudgingly accepted by players.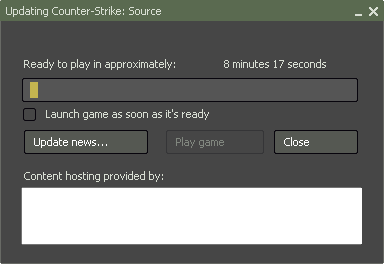 Ready to play Counter-Strike in 8 minutes!?!?! Why bother? For instance, perhaps one day you fired up steam to have a quick online game. But steam wants to do a major update, and you are forced to wait anywhere from 5 to 10 minutes for the updates to download. This detracts from the desire to play. Worse still, there is an advert - fancy paying a subscription and having to put up with more advertising!

If Microsoft forced automatic updates on its Windows users, everyone would be up in arms, bitching and moaning. And there'd probably be some other alternative operating system that people would move over to. Not so with the Steaming Pile of Shit - it's either put up, or shut up.

Contrast this with your car. Should you be forced to have it serviced immediately the next service date is due, no matter what, even though you needed to go to work or some other important trip? Of course not! You'd put off the servicing until the next most convienent time, or have it serviced in advance. And yet, somehow, players are accepting of this 'forced updates' practice. We all accept it the way it is, like in 1984, how the proles never question Big Brother.
The most error prone application

The classic problem with steam
The 2007 award for the most error prone, commercial/widespread application goes to STEAM(ing Pile Of Shit)
Out of all the regularly used and/or widespread computer software, steam wins the award for being the most unreliable and error-prone. It is almost a guarantee for anyone who has ever used steam before to experience a crashed (aka not responding) application.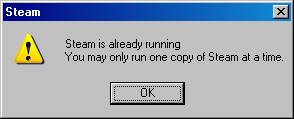 How am i supposed to know that wasn't already running? All the 'improvements' and updates mean nothing as long as steam crashes once out of every 20 times you use it. It would have been much preferred if valve could have spent more development time on reliability rather than making the thing look fancy (see 'Breaks all UI conventions' above).

An even more insidious problem is trying to recover from these software crashes. Suppose one of the games crashed. You then try running it again, and guess what - steam tells you it is still running! Needless to say, to most users, this means a reboot or a trip to the task manager to kill off the offending crashed steam application.
Valve U.S.A. developers are full of themselves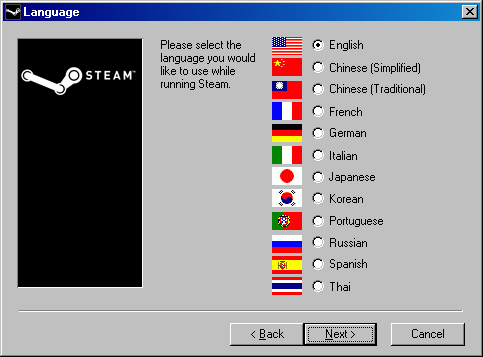 USA flag does not equal English!!! What if I live in the UK or Australia? What do I choose??? English does not imply the stars and stripes. After all, English was named after the country of its origins. Worse still, the list is supposed to be sorted alphabetically, and yet, English (along with the flag they're so patriotic about) is placed right at the top. For people living in other English-speaking countries (such as the UK or Australia), it can cause confusion. To prevent this, the valve developers should have included an 'International English' option.

You see, the north Americans choose bigotry over form and convention. Kind of like 'It's our way, or the highway'. They may not realise it, but small things like this can offend non-Americans.