Power saver scam - VoltBox - ITScorps Spike Buster - fake power reduction device
Power saving device scam - fake power reduction - ITScorps - AussiePowerSavers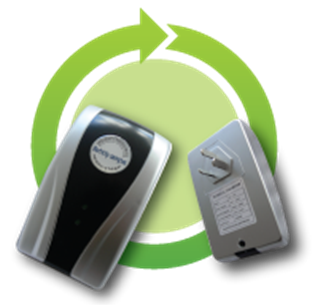 The fake device
Introduction
Perhaps you have come across a product, or been approached by a salesperson with a 'plug-in' device that is claimed to save up to 30% to 40% off power bills.
Description of the fake device
The device in question is made of plastic, with the standard three prong plug for plugging into a normal 240v outlet. There are LEDs on the front that light up when plugged in. The device is standalone. No equipment or appliances can be plugged into the so-called power saving device, so initially, it is hard to see how it could save any power.
Promotional material for the device claims it can support power usage up to 19,000 watts of power. This claim is already dubious, as the device can only be plugged into a normal 10 amp power outlet (which can handle a maximum of 2,400 watts).
Internally, it consists of a power factor correction capacitor, a fuse and an LED (driven by a diode and voltage dropping resistor).
Power Factor Correction Scam
Technical specifications and theory of operation is not supplied. Instead, the company uses fluffy marketing and a general statement claiming it can 'compensate' for excess power coming into a home. None of their brochures or website (www.aussiepowersavers.com.au) will offer a proper technical explaination of how the device actually works. There are also no patent claims. Even a legitimate $10 big brand-name surge protector will be properly described, covered by warranty, and is available for purchase in most shops.
Claims are made on tests, supposedly conducted by 'C.Q.I.I', that allegedly show energy savings of up to 56%. A google search for CQII did not return any results for a 'inspections standards testing institute'. The test conditions include a line frequency of 60Hz, however the Australian power supply is 50Hz. There are also conditions for a line voltage of 200 volts. Again, this is irrelevant because Australian power is 240 volts.
They also use an example for fluorecent lighting incorrectly. A claim is made on a brochure stating a single fluorecent globe uses 300 watts of power. A standard tube only uses approximately 40 watts. This exaggeration is simply outrageous and one has to wonder if the company has any credibility.
Their website only has one 'testimonial' from one person. If the claims were indeed real, they would have nothing to hide and use more testimonials.
These device will not save any power or make any further 'correction' to the power factor of resistive loads (such as heaters, incandescent lighting), which already have a power factor of 1.

Also, switchmode power supplies in all new computers and other ICT equipment of more than a few hundred watts are mandated to have built-in PFC. This would be true for many other high-tech appliances using switchmode supplies, such as plasma TVs. Using an additional power factor correction device (such as the Aussie Power Saver device) will not achieve any further savings.

Most other appliances draw so little power that any added PFC capacitor (which is not properly matched to the load) will cause the power factor to become leading instead of lagging.
Fake Company
None of the business credentials are valid. Their alleged ACN, 141153513, cannot be searched on the ABR, and nor does "Aussie Power Savers Pty Ltd". Put simply, this is a fake company, using an unregistered name, with a bogus Australian Company Number.
Conclusion
None of the claims are verifiable. Information is scant. They are looking for 'distributors' to sell this fake product.
The simple truth is, appliances and equipment are designed to use as much power as they need to operate properly. Any attempt to reduce the amount of power they use will cause the appliance to run ineffectively or inefficiently.
So, do not be duped into purchasing a $149.95 product that essentially does nothing except for burning a hole in your hip pocket. The company preys on people who will do anything to reduce their enery costs or wants to reduce carbon emissions.
If you want to save power, do what is logical. Turn appliances off at the wall socket when not in use. Reduce airconditioning costs by running the airconditioning a few degrees higher in summer and a few degress lower in winter. Upgrade to more energy efficient appliances. Install solar power.
But whatever you do, do not fund AussiePowerSaver's scam by purchasing any of their products!
Others to be aware of as well:
Earthwise Power Saver
ITS Corporation (ITSCorp) Spike Buster
VoltBox (sold by GetVoltBox), advertising on YouTube in May 2021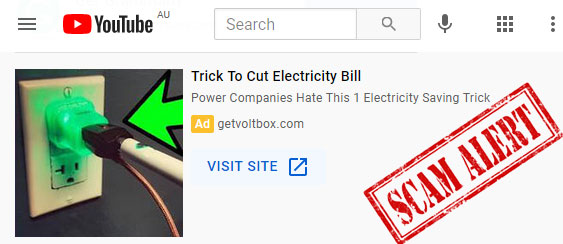 The above are substantially similar products being spruiked, all with the sole purpose of ripping off unsuspecting people.
Avoid & Report the scams
Firstly, ensure your phone number is registered with the ACMA's Do Not Call Register. It may take up to 30 days before telemarketing calls stop.
If you still receive calls from scammers attempting to sell power saving devices, try to obtain as much information as possible (company name, contact phone number, representative name, etc). Then forward a report to the authorities.